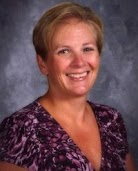 Lisa Haas, RN
River Ridge CUSD #210 District School Nurse
I am Nurse Lisa. I graduated from River Ridge High School and Highland Community College. I am married to Lloyd, and we have four daughters who all have (or still do) attend River Ridge. Prior to joining the River Ridge staff I have worked in Labor & Delivery, Pediatrics and at various Doctors' offices. My philosophy of school nursing is that I am here to keep kids in school. If there is a way that I can help them make it through the day, I will.
In my "spare" time I coach GEAR softball, and run my very active children to their various activities. I like to read, play cards, swim, play computer games and spend time on Apple Canyon Lake in the summer.
Important Forms Information
State Requirements:
Students entering Preschool (for the first time), Kindergarten, 6th & 9th grades MUST have a recent (after 09/01 of the previous year) IDPH/DHS physical form turned in by the 15th of October.

Students entering Kindergarten, 2nd, 6th & 9th grades MUST have a recent (within 18 months) Dental exam form turned in by May 15th.

All Students 7th-12th grade that participate in ANY extracurricular sports must have a yearly IHSA Sports physical and waiver on file.

All Kindergarten and new-to-the-district students must have a Illinois Vision Exam form on file.
Information about Shield Testing:
Only sign the consent if you do NOT Consent to your child being tested.
· Your student will NOT have to go remote if you Opt-Out of the Shield screening test.

· If your student is symptomatic they cannot return to school without a negative Covid-19 test.

· If Shield testing is refused, then a symptomatic student would be required per IDPH and Health Department guidelines, to be excluded for 5 days and participate in remote learning.

· If you Opt-Out of testing at school your student will not be eligible for these options and will be required to do the full 10 day exposure exclusion. Again per IDPH and Health Department guidelines.

· Testing will be performed as needed due to COVID-19 symptoms or exposure to COVID-19 positive individuals.
Please don't hesitate to contact Mrs. Haas if you have any questions or concerns.
Video: video of how the Shield Illinois Test will be administered.
Thank you for your participation in these mitigation efforts to keep the River Ridge Community as safe as possible.
Shield Community testing at Jo Daviess County Health Department
Starting Thursday, February 24th from 9:30am to 12:30pm Jo Daviess County Health Department will be providing PCR Salvia based COVID-19 testing through Shield Illinois. In order to be tested, individuals will need to register for an online account on the Shield Illinois Portal at https://shieldillinoisportal.pointnclick.com/login_login.aspx. Please use df5brbrj as the agency code. Appointments can be scheduled on this website, but we will also take walk ins. To schedule an appointment an online account will need to be created where you will also review testing results. Please note your appointment cannot be made any more than 7 days in advance. However, for the first clinic on the 24th scheduling will not be available until day of testing clinic. If anyone needs assistance in setting up an account, creating appointments, or accessing their results they can contact the Shield Illinois Patient Support line at 217-265-6059. This is a free service for anyone and results will be available in your Shield Portal within 24 to 48 hours. Persons will need to present their ID and the QR provided when the appointment is scheduled. Please do not eat, drink or put anything in your mouth (no smoking, chewing gum, or using mouthwash) for one hour prior to your test. Jo Daviess County Health Department will offer Shield testing Tuesday's from 12pm to 3pm and Thursday's 9:30am to 12:30pm. Testing will be done in the lower level of the health department, please park in the lower parking lot and follow the signs. For more information about Shield Illinois Saliva Test please go to https://shieldillinois.com/.